A Complete System For Swimmers
After hours in the pool, you've developed the large muscle groups swimmers need. But your smaller muscles in the shoulder & back are struggling to keep up.
The result: your body compensates, creating a less efficient stroke, shoulder irritation and pain.
You need a program designed to strengthen and balance your smaller muscle groups to regain your powerful, efficient stroke.
Crossover Symmetry is designed by performance and medical experts, and used by top swimming programs world wide..
Each program includes video training of every exercise and equipment designed for athletes with limited time who need to see results fast.
Professional Grade Equipment
The Crossover Symmetry packages are designed to be used right out of the box without any other equipment.
Chart & Education: Our exercise chart and video training zone will walk you through your warm-up, arm strengthening, and post-throwing recovery.
High-Quality Equipment: The Crossover Symmetry equipment is designed to be used at home or the field, & durable enough for years of daily use.
Pain Rehab: Get rid of nagging pain with our 30-Day Shoulder Fix.
Buy Now
A Dryland Program that Will Make You Better in the Pool

Eliminate Shoulder Pain
The Pain and Rehab section includes our medically designed self-rehab plan to end your shoulder pain and get you back to swimming.

Protect Your Shoulders
Using Crossover Symmetry as a proactive tool is the smartest path to shoulder health and performance.

Swim Faster
A healthy body is a high-performance body. Use Crossover Symmetry to increase speed, power, and strength.
Hip & Core Training
Don't Forget About the Lower Half...
Add the Hip & Core System to your Shoulder Package for a full-body performance plan.
Buy Now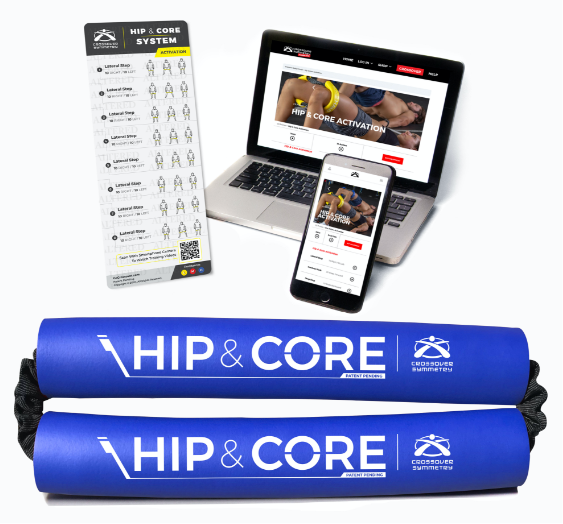 As a physical therapist, I absolutely love the shoulder program for my swimmers, but never realized that I would also use it with all of my other athletes. As well as using the hip/core program for literally every patient that walks in my door. All of the youth and high school athletes I'm seeing are now benefiting from these.
Cathy HongLos Angeles, CA
I've startied with the 30-say activation program and can notice a major difference. I'm no longer experiencing any shoulder pain after my swim workouts.
Dave PredzinLouisa, VA
Works really well for my two young swimmers.
Javier ValenzuelaHumble, TX