HOLIDAY SALE!
Save 20% on orders over $75. Use code 20%OFF at checkout
Shop All Products

Watch video
A complete solution to get rid of your pain - guaranteed.
$200+ ORDERS SHIP FREE IN US
Trusted By Doctors, Patients & Coaches
"I started using your bands with my trainer after a nasty shoulder and neck injury. What started as rehab became strength and injury protection. As an ER doc and mountain bike racer being able to come off the bike at speed being able to show up at work the next day is pretty crucial. I routinely suggest Crossover to patients with any scapular issues as well as neck pain."
Crossover Symmetry is a fantastic product and an even better company that understands the value of customer loyalty and satisfaction. I use their bands in my home gym and they have earned all of my future business.
Excellent customer service! Quickly replaced an incorrectly shipped item. The Hip & Core band is really helping with my recurrent hip pain, and I just bought the shoulder system to help my husband with rehab. It was a pleasure to speak to customer service on the phone the other day, which is rare!
Read More Reviews
Our Products
Choose Shoulder, Hip & Core or get then both with the Bundle.
Improve shoulder performance while reducing pain with the Crossover Symmetry Shoulder Package.
Includes 30 Day Shoulder Fix online training
Choose your personalized resistence
End back and knee pain with a band that stays in place, doesn't pull hair, and lasts way longer than other bands. 
Includes 30 Day Back & Knee Fix Programs.
2 Year Warranty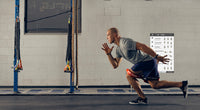 The Training Zone Delivers
Our Shoulder and Hip & Core Systems come with 30 day pain programs to guide you every step of the way to achieving your goals. Packed with over 100 hours of recovery and training excercies from medical professionals and world class athletes.
Learn More
Join 50,000+ Followers of Crossover Symmetry
@crossoversymmetry
30-Day Guarantee
If after 30 days, you are not seeing the results you expected or just don't want the package -Simply return the system for a no-hassle refund.